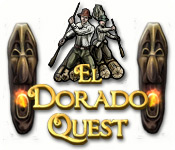 And from our Time Consumption Department:
More great ways to avoid whatever you were supposed to be doing
El Dorado Quest
This is your chance to become a real treasure hunter! Join Bob and Jane on their captivating adventure into the Amazon. You will go step by step into the ancient Incan civilization to find the lost city of El Dorado. There will be stops in your journey where you must piece together forgotten artifacts from this bygone culture. Solve the puzzles of the jungle and guide Bob and Jane to the treasures of a powerful empire.

» Invigorating Incan art.
» Appealing Match 3 puzzles.
» Immersive soundtrack.
We'll see you when you get out of the Jungle.
To get more info and download the game, visit:
El Dorado Quest. For the latest Videos, Flash and Casual Games visit Game News