Those of you who follow our stupidity diaries at Book of Moron have probably realized that we spend most of our time hunting the best sites for fooling around and screwing off on the web.
We don't do this for our own sake, however, despite popular misconceptions. We do it for you. We know you only have a limited amount of time to waste, and you don't want to waste it looking for ways to waste it.
That is where our valuable service comes in.
As far as nosy neighbors, disapproving relatives, and our next job applications are concerned, this is an "online publishing company" and finding the best funny videos, ironic images, and bufoonish silliness on every corner of the web is all "part of the job".
But there comes a time when watching others being idiotic just isn't enough.
1 comment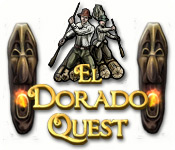 And from our Time Consumption Department:
More great ways to avoid whatever you were supposed to be doing
El Dorado Quest
This is your chance to become a real treasure hunter! Join Bob and Jane on their captivating adventure into the Amazon. You will go step by step into the ancient Incan civilization to find the lost city of El Dorado. There will be stops in your journey where you must piece together forgotten artifacts from this bygone culture. Solve the puzzles of the jungle and guide Bob and Jane to the treasures of a powerful empire.
3 comments